3.5 km of Yellow Creek, Rondale Blvd to Forest Hill Memorial Park. plus Bathurst Heights Stream (1.2 km) and Briar Hill Stream, (1 km),
North Toronto Sanitary Sewershed; Storm water from the north half flows via North York Storm Trunk Sewer along Glengrove Ave. to Black Creek; From Glencairn Ave. and south storm water flows to the trunk storm sewer along the Beltline. mostly in the former City of North York, but a bit in the former Village of Forest Hill.
Click here to see sewers. Double click to remove.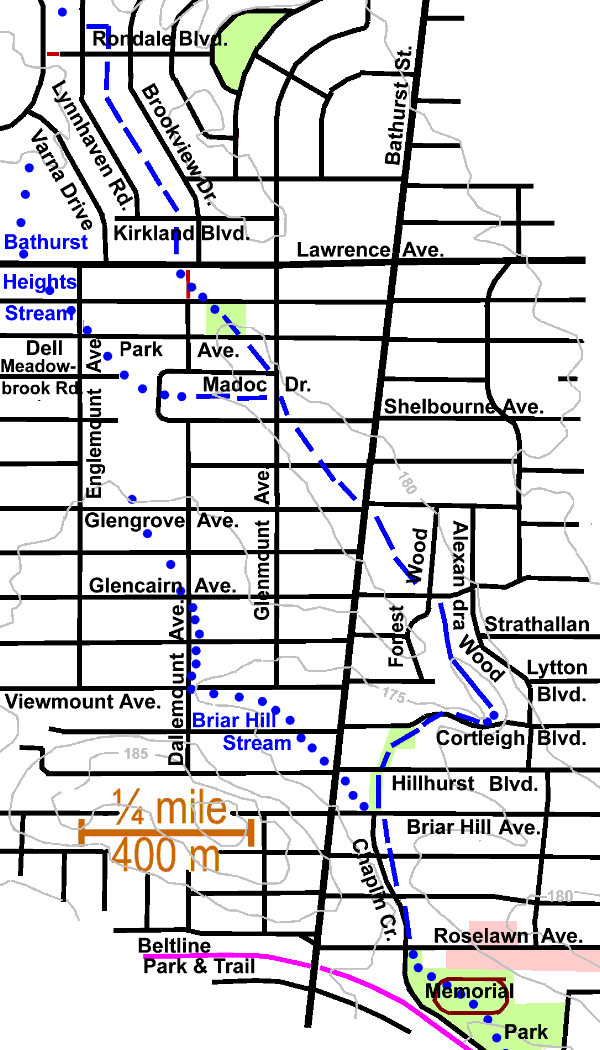 The first recognizable stretch can be seen just north and south of Rondale Blvd west of Brookview Drive, where a long low area with willows, behind the houses, marks the site of a ditch that can be seen on a topographic map produced from 1969 air photos. Take either Lynnhaven Rd or Brookview Dr. south to Kirkland Blvd. where the old willow lined ditch can again be observed. This can be traced down to Lawrence Ave. through the open space west of Brookview Dr. After crossing Lawrence Avenue take foot path west of Brookview Dr. south and east to Dell Park. Note low part of park. Take Dell Park Ave. to Glenmount and south to Shelborne. The stretch from Lawrence Ave. to Bathurst Street can be readily discerned by the slopes of the terrain. There is fair tree cover in this area, with some interesting examples, such as a Catalpa at Rondale Blvd and Brookview Dr., Pin Oaks and White Pine in Dell Park and Norway Spruce and White Birch north of this park.
Indications of a small tributary, Bathurst Heights Stream (1.2 km), that arose north of Bathurst Heights Secondary School can be recognized between Shelborne Ave. & Madoc Dr., west of Glenmount Ave. It arose north of Lawrence Ave., flowed south, crossing Lawrence Ave. at Bathurst Heights Secondary School, to about Meadowbrook and Englmount and thence east. The terrain, buildings and tree cover are similar to those along the main stream.
Cross Bathurst at Shelborne Avenue with traffic lights and walk south to Glengrove. By the time that Yellow Creek crossed Bathurst, just north of Glengrove Ave., it was running in a well marked valley. This valley started in the Downsview area, but is most noticeable at this end; (see drumlins and flutings). Take Glengrove east to Forest Wood and south to Glencairn. Ash & Mountain Ash along Glengrove. Norway Spruce, Doug fir & true fir, Ginkgo, Pin Oak, Burr Oak, cinquefoil & dogwood along Forest Wood.
A bit of ravine remnant starts at Glencairn and is visible at end of driveway of # 25 Forest Wood. A small stream still runs south from there through a wooded ravine behind the houses on the west side of Alexandra Wood. Only a block or so now drain into this stream remnant. North and West of here storm water flows via the North York Storm Trunk to Black Creek. Sanitary drainage in this general area goes via The Hillhurst Sanitary Trunk Sewer and the Avenue Manor Combined Trunk Sewer to the Balliol Combined Trunk Sewer, which flows to the North Toronto Sewage Treatment Plant in the Don Valley. Note on Forest Hill Village Sewer Map 48: "Feb.1 1956 (Re Chaplin Cres. Trunk Sewer Extension) Discharge from North York creeks reduced from an estimated 215 acres to 160 acres following completion of North York Trunk Sewer westerly on Glengrove Ave. to Black Creek. Discharge reduced to 126 acres 1962."
Walk south on Alexandra Wood. The ravine can be glimpsed behind the houses. North of Strathalan Blvd. note large Basswood. Along Alexandra Wood there is a fine stand of Red Oak. Turn west along Cortleigh Blvd. A large house has recently been built across the stream bed. Note how the stream has been diverted along the east side of this house. Large native trees: Red Oak Beech Sugar Maple Ash & Red Maple; planted trees include White, Scots & Austrian Pines & Cedar. Norway Maple, Walnuts & Ash have come up from seed.
At Cortleigh the stream turned west to flow into another fluting, which probably held a pond in the beginning after the ice left, but which rapidly filled with sediment and was drained as Yellow Creek made its way along south. Note the flat terain from Cortleigh to Briar Hill that stretches west to beyond Bathurst. From Cortleigh to Briar Hill we can trace the creek's course west and south though a couple of small parks to where it met a small tributary that arose west of Bathurst. Note sign of ditch & crack willows. Other trees to be seen: White, Scots & Austrian Pines, Horse Chestnut, Ash, Linden, overgrown Blue Spruce, & Yew. Note: the fence line between Hillhurst and Briar Hill marks the boundary beween The Township (later City) of North York and The former Village of Forest Hill (later of the City of Toronto).
Briar Hill Stream, (1 km) a small tributary that arose near Glen Park Public School on Glengrove Avenue, joined Yellow Creek just south of Briar Hill.
After crossing Briar Hill Ave., Yellow Creek flowed south through the former Village of Forest Hill following the existing route of Chaplin Crescent to the site of Forest Hill Memorial Park and thence south east. Trees seen include: Honey Locust, Linden, Norway Maple Scots Pines; Storm water to trunk storm sewer along the Beltline. Continue on to Beltline Reach.