Several small airfields were established in the Toronto area in the second and third decades of the 20th century.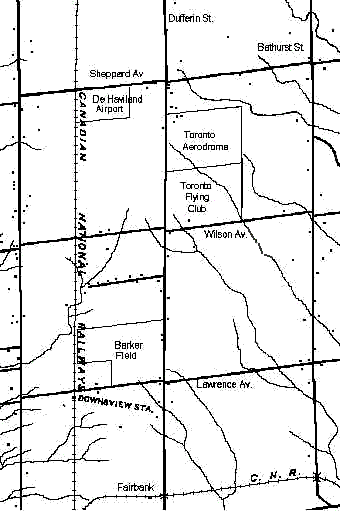 The Canadian Air Express Airport, which is shown on the map above as "Toronto Aerodrome," operated from 1928 to 1932.
The original 1929 Downsview Airfield is shown on the map above as "De Haveland Airport" was expanded during W.W.II, by the addition of considerable land around it including Toronto Aerodrome and Toronto Flying Club. The W.W.II Mosquito Bombers, famous for having been built almost entirely of wood, were manufactured at Downsview.
Toronto Flying Club opened 1931. It was the principal Customs entry point for aircraft visiting Toronto until Malton opened in 1939.
Barker Field operated from 1927 to 1953. Barker Field and Toronto Flying Club were among those airports considered in 1935, as possible sites for the Toronto Airport.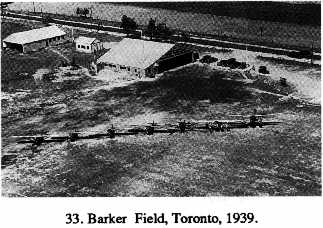 This field was named after W. G. (Billy) Barker who was Canada's most decorated hero in the Great war (WW1). His interests of riding horses and guns convinced him to join the Canadian Mounted Rifles. When war broke out in 1914, he was assigned as a gunner with the first battalion. However, his main interest was flying so he learned how to fly in England and was sent to France with the Nineth Air Squadron to fly observation aircraft. With his natural ability (he flew after only 55 minutes of instruction) and courage, he was soon sent back to England for further training as a fighter pilot. He scored two victories before being sent to Italy where he downed two enemy aircraft on his first patrol. The following year, back in France, he destroyed 33 enemy aircraft and was awarded the Distinguished Service Order. After 50 victories in the air, he was the third Canadian to be presented with the Victoria Cross. More awards followed including two more Distinguished Service Orders, three military crosses, the French Croix de Guerre, and two Italian silver medals for valour. After the war, Barker returned to Canada where he helped form the Royal Canadian Air Force, following which he then left the service to form a partnership with his friend Billy Bishop. He died testing a new type of two- seater aircraft. Information on Col. Barker is from an article in the Village Post by Jeanne Hopkins.
Leaside Airfield, located east of Eglinton Avenue and Laird Drive, was one of the airfields established in World War I to train pilots and maintenance crews for the Royal Flying Corps. It was noted as the terminus of the first airmail flight in Canada. It was closed in 1931. For more about Leaside Airfield click.
Armour Heights, which was located where the Avenue Road / 401 Interchange is now, was opened in 1917 as a Royal Flying Corps base.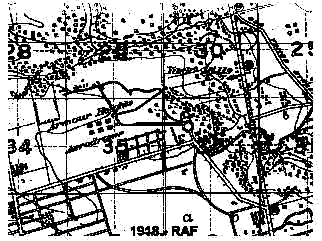 "History of Canadian Airports" by Tom M. McGrath; Lugas Publications, is an excellent source of information on the history of aviation in Canada.