Return to Don Channel Reach main page.
To see main sewers pass mouse over map.
Regent Park was carved out of the original Cabbage Town, which was one of the poorest neighbourhoods in Toronto. Canadian writer Hugh Garner's famous novel, "Cabbagetown", depicts life in this neighbourhood during the Great Depression. In an attempt to mitigate poverty and provide better housing for those "not so well off," the Regent Park housing project was established in the late 1940s and most of the original Cabbagetown was razed to make room for project housing. The favoured theory then was that, if a "garden city," was created by setting buildings in park-like settings where streets are removed and the community removed from the rest of the city, all would be well. It didn't work that way. With deteriorating buildings, poorly planned public spaces, meagre facilities and growing social problems, it was time to rethink this area. It is now in the process of a new rehabilitation.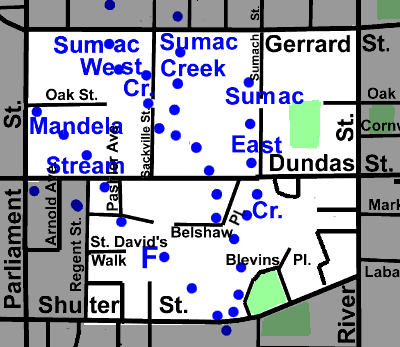 Regent Park is home to 7,500 people. Some residents have lived in Regent Park many years. Others are recent newcomers to Canada. All share the vision of a community much like other communities in Toronto. They want to be a part of a vibrant city and a place where there is opportunity to grow and be successful. There is confident expectation that revitalization of this neighbourhood will make this possible.
The Regent Park Plan was developed by Toronto Community Housing in response to residents' issues and an assessment of the condition of the buildings in Regent Park. It is based on the principle that a healthy community can be created if it is part of the surrounding city. It recommends introducing streets, creating large new park spaces, aligning buildings along the streets and providing opportunities for employment, education, culture and community facilities. It will be carried out in stages.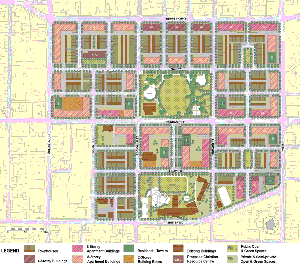 Regent Park Plan
The relocation process for Phase One began in 2005. About 370 households, or 1160 people, were relocated over nine months and none were evicted. There will b eleven more relocations: the return of Phase One residents, and the relocation and return for Phases Two to Six. Each will provide opportunity for improvement.
More information on the Regent Park Plan may be found at www.regentparkplan.ca
While originally this area drained to the Don River via Sumac Creek and its tributaries, now storm water goes to the Don via storm sewers along Gerrard and Queen Streets. Sanitary sewage flows to the Ashbridge's STP via the High Level and Mid Toronto Interceptor Sewers.