The building at 135 St George Street, which now houses The York Club, was completed in 1892 as a mansion for George Gooderham, president of the Gooderham and Worts Distillery. The Annex, was then fast becoming a fashonable area. Timothy Eaton had moved there in 1889 and other notables followed. Gooderham named his house "Waveney," after a river near his birthplace in Norfolk, England.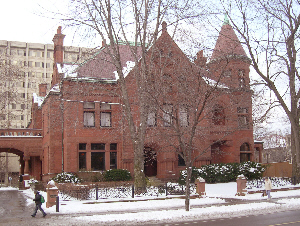 Architect, David Roberts Jr designed this house in the then popular Romanesque Revival style. The sprawling plan with its corner tower and porte-cochere, is embellished with round-arched openings and elaborate sandstone detailing. The interiors are equally elaborate with an impressive three-storey staircase, mahogany inlayed parquet floors and finely detailed wood finishes. The George Gooderham House is the last surviving example of the mansions that lined Bloor Street in the late 19th century.
Gooderham resided here until his death in 1905, when he was described as the wealthiest man in Ontario, with a personal fortune of $25 million. The York Club, a private club for gentlemen, has owned the property since 1910.
For more about the Gooderhams see Flatiron Building and Distilery District.