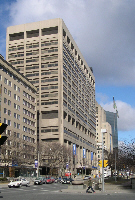 Mount Sinai Hospital
Mount Sinai Hospital, seen in the middle of this picture, has a notable history. It began as a small 30-bed maternity and convalescent hospital on Yorkville Avenue in 1923 and has become an internationally renowned centre of excellence and leader in health care. When it was established at 100 Yorkville Avenue in 1923, all 40 Jewish doctors in Toronto joined its staff. It receives its first provincial grant of $1,500 in 1929. By 1934, it was overcrowded and had to renovate and expand its Yorkville building.
In 1948, Construction began on the New Mount Sinai Hospital on University Avenue, which opened in 1953, at a cost $7.3 million. It is hailed as one of the most modern in North America. Again by 1966 expansion is necessary; however, difficulties arise and in 1967 it is decided to build a completely new institution next door. Construction of the new hospital at 600 University Avenue began in 1970 and in 1974, Mount Sinai Hospital officially opened at 600 University Avenue.
For more about Mount Sinai go to their about page
Princess Margaret Hospital
One can glimpse Princess Margaret Hospital, beyond Mount Sinai in the picture above. It is part of the University Health Network and is one of the teaching hospitals associated with the University of Toronto. It specializes in the treatment of cancer, in the treatment of which it is considered the best in the world. The construction of this 18 storey hospital building by Urbana Architects was completed in 1998. An earlier building was once located on Sherbourne Street, north of Wellesley Avenue.
For a virtual tour of Princess Margaret Hospital go to Virtual Tour
Toronto Rehab Centre
On the right of the above picture is one of six centres specialized teaching and rehabilitation hospital facilities operated across Toronto by the Toronto Rehabilitation Institute. It was formed in 1998 by the amalgamation of Lyndhurst Hospital, the Rehabilitation Institute of Toronto, and the Toronto Rehabilitation Centre. Toronto Rehab's Mission is "to partner with individuals, their families and supporting communities in innovative, effective adult rehabilitation and complex continuing care. In affiliation with the University of Toronto, to lead the integration of service, research and education, and the development of a co-ordinated rehabilitation system."
See also Toronto Rehab Lyndhurst and Rumsey Centres and the Toronto Rehab web site.