Spruce Court Housing Co-op and Bain Apartments Co-op
The Spruce Court Housing Co-op and the Bain Apartments Co-op were the first public housing projects in Toronto and fine example of successful undertakings in the field of providing affordable housing. Today, both are resident-owned and managed housing co-operatives.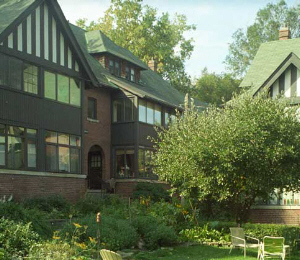 Bain Apartments Co-op
These projects represents the first deliberate attempt to create low-income public housing in Canada. They were executed by a partnership which identified the need for low-income housing, arranged for financing, and administered the project until 1980. The partnership included the City, the Canadian Manufacturer's Association, the Toronto Board of Trade, the Guild of Civic Art, and the Local Council of Women. Much credit goes to Frank G. Beer, who was able to get the first Ontario Housing Act passed in 1913; this gave Ontario municipalities the power to guarantee bonds for housing companies of up to 85 percent of their working capital as long as the remaining 15 percent was directly invested by the public. Both converted to resident-owned housing co-operatives in 1980.
The Spruce Court Housing Co-op at the corner of Spruce and Sumach Streets in Cabbagetown, was started in 1913 and has 78 various-sized flats in two- and three-storey buildings. All the flats have a front door and porch to the outside. The Sumach Street courtyard, built in 1913, was first half of the project. The Spruce Street courtyard was built in 1926. The Bain Apartments Co-op, 100 Bain Avenue in Riverdale, was built in 1914 and now contains 260 units, ranging from one bedroom units to as large as four-bedrooms.
For an interesting webpage about the trees at the Bain Apartments Co-op, prepared by LEAF, go to www.treetours.to/bain-coop.
The Architect was Eden Smith (1858‒1949), a Toronto architect who was much in demand. Most of the 2,500 single-family houses he designed and constructed were built in the English Cottage Style. He lived in Wychwood Park where several of his neighbours used his services.