The artist, Marmaduke Matthews (1837-1913), who came to Toronto in 1860, was official artist for the CPRand painted many western Canadian landscapes. In 1873, he bought ten acres north of Davenport and built his home at the crest of the hill with forest behind, naming it Wychwood for a woodland close to his childhood home. In 1877, Matthews and Alexander Jardine bought the adjacent twelve acres to the west, where Jardine built his home, Braemore Gardens. Matthews and Jardine envisioned a cooperative artists' colony on the property and filed a plan of subdivision in 1888 which was later revised to include smaller lots, building restrictions and provisions for a trusteeship. At the centre was a private park for residents, through which Taddle Creek flowed; later dammed for a pond.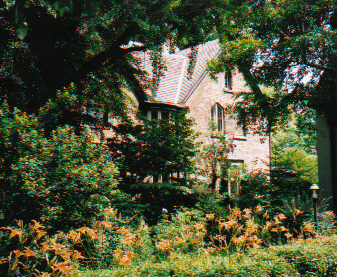 Wychwood
Marmaduke Matthews is remembered for the role he played in the creation of artistic organizations in Canada: the Ontario Society of Artists and the Royal Canadian Academy and as a watercolourist. Born in England, he studied watercolour painting in Oxford before he came to Toronto in 1860. His career as an artist was highlighted by trips made to the Rocky Mountains on passes provided by the Canadian Pacific Railway, in 1887, 1889 and 1892.
Construction of other house started in 1906 with the building of the George Reid home, a Tudor home with stuccoed half-timbering and natural gardens. Architect Eden Smith, who designed many houses in the Park, built his own dwelling there in 1907. Marmaduke Matthews died in 1913. The lapsed 1891 trust deed was reinstated in 1917, and since that time an elected board of trustees has maintained roads, lighting, tennis courts, and other communal concerns. Matthews's daughter Alice lived in the family home until 1960. Subsequent owners have restored and carefully maintained it. In 1985, Wychwood Park became the first residential area to receive heritage designation under the Ontario Heritage Act. The Pond was restored in 1998. (For more about Wychwood Park and Marmaduke Matthews, see "The Estatesof Old Toronto" by Liz Lundell).