Timothy Eaton's grand house was in the Annex at 182 Lowther Avenue, on the northwest corner of Spadina Road. By moving there in 1889, he confirmed that the Annex, even the relative wilderness of the west Annex, was a very good address. At this time Eaton had reached his early sixties. His had been in the department store business since 1869 and it was fast growing into a retailing empire. His Annex mansion was demolished in the 1960s.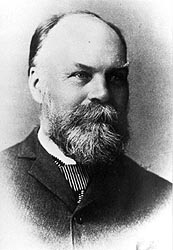 Timothy Eaton, the founder of the T. Eaton Co. Ltd., was born in 1834 on a prosperous farm in Northern Ireland. In 1846 the potato famine struck Ireland. As the changed conditions meant that the farm could not support more than one family, the Eaton offspring emigrated to Canada. The older ones went first. Timothy had to stay in Ireland with his mother to finish school. As academia had no charms for him, he decided to apprentice in a store. In 1854, after seven hard years as an apprentice, he journeyed to Canada with a lot of experience and one hundred pounds. to start a bright new future.
In 1856, he, with his brother James and his sister Sarah, opened a general store in Kirkton, Ontario The little store prospered, but in 1860 he moved his store to St. Mary's to set up shop with his brothers, Robert and James. Here he met and married Margaret Beattie. Margaret trimmed fashionable hats for Timothy to sell in his store. These were a huge success. In 1869 the Eatons moved to Toronto to establish a store at 178 Yonge St. Here he introduced Canadians to cash sales and one fixed price. He advertised that "We propose to sell our goods for cash only" and "In selling goods, to have only one price." Another innovation was "Money refunded if Goods are not satisfactory." This shocked both consumers and Eaton's competitors.
An important feature of his business was the Eaton's Catalogue, which he started in 1884. The catalogue was later nicknamed 'The Farmers Bible' because it allowed Canadians, especially those in pioneer farming communities, to have easier access to a variety of merchandise. As more and more catalogues continued to come out, the popularity of shopping by mail increased. The early catalogues were quite different from those in later years. The catalogue had 32 pages and there was simply a name and the price of each item. The cover had only a black and white picture of the Eaton's store on Yonge Street and there were no pictures inside. The main reason that the Eaton's catalogue was such a success was that he gave good value because "Satisfaction guaranteed or money refunded."
Timothy Eaton was a kind and generous man. He had a sense of responsibility towards his employees. In those times the normal working hours were very long, but he decided that his employees would be dismissed at 6:00 p.m. instead of the usual 7:00 p.m. or later. On summer Saturdays, July and August, they were let out at 2:00 p.m.
Besides his large beautiful home in the Annex, Hw had a summer home in Muskoka, which he loved for the superb scenery and as a place where he could escape the worries and cares of his large business. He enjoyed horseback riding but unfortunately was thrown off his horse and fractured his hip. In January of 1907 Timothy died of pneumonia. He was succeeded by his son John Craig Eaton who carried on and expanded the business. He was knighted in 1915 for his many contributions to the war effort. He was a generous philanthropist, contributing to many charities. He also worked continually for better working conditions for his employees, introducing shorter hours, minimum wage, early closings, and Saturday half days. For more about John Craig Eaton, see Ardwold.