John Craig and Flora Eaton's home was called Ardwold, which means "high green hill" in Gaelic. John Craig was the son of Timothy Eaton, founder of the T Eaton Company. He was promoted to President when Timothy died in 1907. As President, John Craig needed a larger home with grounds for entertaining, so, in 1908, they bought Ravenswood from Anne Arthurs (see below). Its neighbours were Glen Edyth and Spadina. As Lady Eaton later wrote in her memoirs: All three were spacious semi-country estates, with no crowding of streets nearby, for between Davenport Road and Dupont Street and, again, north to St. Clair there were practically no houses at that time. I would have been happy to move into Mrs. Arthurs' quite charming house, but Jack felt that this was the time to build the sort of place he wanted. The result was an enormous residence with fifty rooms, fourteen baths, and a half-acre glassed area housing a swimming pool and a conservatory. Ardwold was completed in 1911.
The entrance to Ardwold was from Spadina Road, and the drive has since become Ardwold Gate. Formal gardens with a fountain pool framed a panoramic view of Toronto. The Great Hall housed a magnificent mechanical organ, which John enjoyed playing. John Craig Eaton was knighted in 1915 for his many contributions to the war effort. He was a generous philanthropist, contributing to the T Eaton Memorial Wing at Toronto Hospital, Timothy Eaton Memorial Church, the Department of Medicine at the University of Toronto, the YMCA, the Royal Ontario Museum, the Navy League, and many other charities. He also worked continually for better working conditions for his employees, introducing shorter hours, minimum wage, early closings, and Saturday half days. In 1936, the property was sold, Ardwold was demolished and the Ardwold Gate subdivision was developed in its place.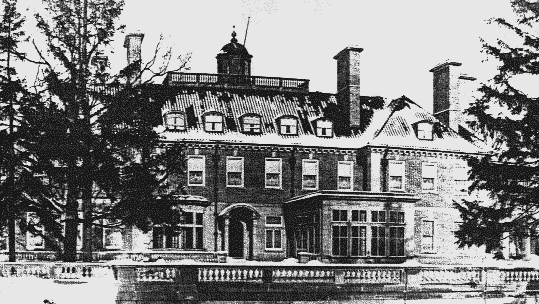 Ardwold 1911 to 1936
Ravenswood was built by James Austin's daughter, Anne Arthurs, and her husband on the Spadina property in 1867. The buff-brick mansion, which was just 150 yards east of Spadina, close to Russell Hill, shared the family home drive. She sold Ravenswood in 1908 to John Craig Eaton (see Ardwold above). (For more about Ardwold and Ravenswood and the families that lived in them, see "The Estates of Old Toronto" by Liz Lundell).