The building at 100 Howland Avenue, now part of Royal St. George's College, was intended to be the Anglican Cathedral of the Diocese of Toronto. Even though it was still only in the planning stage, it was officially made the Cathedral in 1883 and remained so until 1935, when Archbishop Owen, then Primate of Canada, formally cancelled further construction. Work had stopped over twenty years earlier and it had become obvious that it would never be completed. In 1964, St. George's College was established and leased the property. This school has occupied the property since then. In 1970-72, classrooms and offices were erected on the unfinished nave foundations. The chancel, which had been completed in 1891, became the school chapel.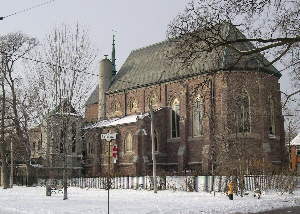 Chaple of St Alban the Martyr
St. Alban was an officer in the Roman army of occupation in Britain who converted toChristianity. Because of this he was beheaded in 304 AD and thus became the first martyr of England. Archbishop Sweatman decided that Toronto should have a grand Cathedral and that it would be fitting that it be named St. Alban the Martyr. As the parishioners of St. James did not wish to give up their parish church and their pews, nor did they that its name be changed, the Archbishop had to look elsewhere for a suitable site.
In 1884, four and one-half acres of land in Seaton Village were purchased for the Cathedral and other Diocesan buildings. The plan was that all the land from Lowther Street to Wells Street, between Howland Avenue and Albany Avenue would be used for the Cathedral and related uses. Work started in 1885 under the guidance of the Toronto Architect, Richard C. Windeyer, Sr. In 1887, Bishop Sweatman laid the cornerstone of the choir. Regular services were first held in the crypt, in November, 1889. Following Windeyer death in 1900, the American architect, Ralph A. Cram, was engaged in 1911, to direct construction of the transept. However, work to complete the cathedral stopped before the Great War and was never resumed.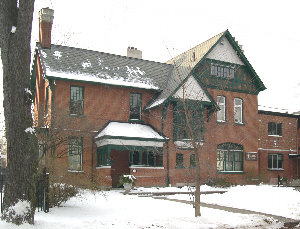 The See House
The See House, built in 1887 at 112 Howland Avenue, served as the home of the Anglican Archbishop of Toronto until 1937. With the transfer of Cathedral status to St. James; the house served as a rectory for St. Alban's Church until 1964, when St. George's College was established and occupied the property.