The parliament buildings in Queen's Park are the fourth in Toronto but the first on this site; they date from the late 1880s. For information about earlier buildings go to First and Second Parliament Buildings and Parliament Buildings 1830 to 1892 and York General Hospital. The main block of the massive Romanesque Revival structure, with its towering legislative chamber, was completed in 1892 and on April 4, 1893, the first legislative session in Queen's Park was opened under Premier Sir Oliver Mowat.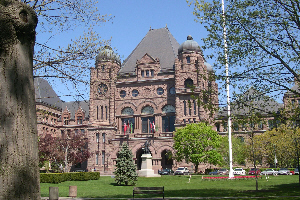 Placing the parliament buildings adjacent to the University of Toronto had been considered since the decision to make it a secular university. The government took over the King's College site for a possible permanent parliament building for the United Province of Canada, thinking that Toronto would become the capital. As it turned out, Ottawa was selected as the capital, but the old King's College site was never returned to the University. The building was needed for a women's mental hospital. In 1859 the city leased land here from King's College, and in 1860 a park, named after Queen Victoria, was opened by the Prince of Wales, later Edward VII.
In 1879-80, construction of new parliament buildings was authorized by the Ontario Legislature and city council. The government held a competition for their design in 1880, but when it was unable to reach a decision, the matter lapsed for a few years.
At that point, according to historian Eric Arthur, the American architect R. A. Waite obtained the commission by a fine bit of boodling. He had been one of three judges in the inconclusive design competition of 1880, and had subsequently been asked by the government to adjudicate the proposals of the two firms on the short list. In a unique move, he concluded that the judge was the only one capable of carrying out the work, and used his considerable talents at cronyism and poker to inveigle his way into the appointment. His design eventually cost two and a half times the tendered price of the cheapest Toronto firm. This decision generated considerable controversy among Ontario architects.