2 km of Mud Creek from Highway 401 to Lawrence Ave. W.
The Lawrence Manor Reach extends from Highway 401 to Lawrence Avenue West. Most of the storm water now flows to the North Toronto Storm Trunk Sewer, in the Burke Brook Valley, and empties into the West Don in Sunnybrook Park. Sanitary sewage flows to North Toronto Sewage Treatment Plant. This is a residential area containing everything from bungalows to high-rise apartments.
To walk this reach, start at Bathurst Street and Hotspur Rd. a bit south of Highway 401. (TTC stop Hotspur/Marquette) Walk west on Hotspur to Neptune Drive and on to just past Rajah St. Highway 401 is close here. For an alternate route to this point, take TTC 109 (B or C) Ranee Bus from Lawrence West Subway Station to Rajah. This is an area of low and high rise apartments and institutions with a light tree cover; mostly Norway maple and Siberian elm, but Austrian pine, crab-apple, mountain ash, Norway spruce, Colorado spruce, Manitoba maple, willow, Douglas fir, cedar and catalpa, can also be seen.
Historic maps indicate Mud Creek entered this area across from 125 Neptune Drive. Two routes for Mud Creek are shown on the map below. The first is indicated by widely spaced blue dots (very hazy or lost) showing the route traced from old maps. A local resident recalls a small ravine running across what is now a Baycrest Centre parking lot. Closely spaced blue dots (hazy) outline the second route. This low part of the landscape gives the impression of a stream valley. The culvert across Highway 401 from Champlain Park (see Downsview Reach) ends in the north-east corner of Baycrest Park (see picture). A ditch (and culvert) between the 401 and the apartment buildings, carries the water from this culvert nearly to the original route where it enters the sewer system.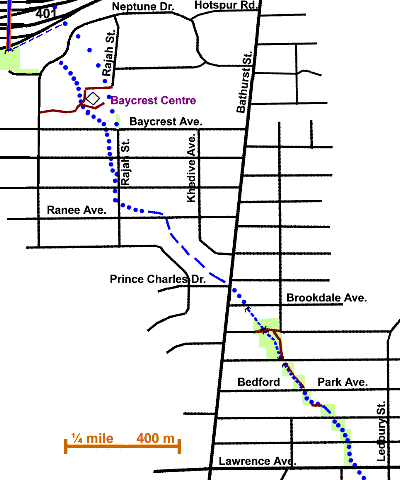 By going west on Neptune Drive and into the park, one can find the 401 culvert in a brushy area beside the ramp. Because fences and other obstructions make a direct path impassable, follow this suggested route. Walk south on Rajah and through the parking lot to a private road on the Baycrest Centre grounds. Walk west to The Esther Exton Children's' Centre, south to the McDonald's Restaurant's Seniors' Fitness Path and west past Baycrest Terrace to Neptune. Notice some lower ground in this area. Trees on the grounds alongside the Fitness Path include ash, Austrian pine, white spruce, Norway maple and crabapple. Proceed south to Baycrest Ave., then east to Rajah St.
Follow Rajah south to Ranee Avenue, east to Khedive Avenue. Continue south, then east on Khedive to Bathurst Street. Note a low area with willows and other trees south of Ranee and southwest of Khedive marking the stream route. There is a fairly large black walnut tree near the corner of Ranee and Khedive. The route of Mud Creek can be deduced from low points in these streets and the presence of telltale crack and weeping willows and Manitoba maple. This is an area of mainly one-storey family houses. Norway maple, silver maple, Colorado spruce offer fairly light coverage. Notice recent plantings of ornamental pears, white pine, crabapple, catalpa, elms, and honey locust.
Cross Bathurst Street at the Prince Charles Drive lights, walk south to Brookdale Avenue, then east to a small ravine. Proceed south into a string of small parks marking the route of Mud Creek as far as Lawrence Avenue. Most of the way, there is a grassy ditch bordered by crack willow, but in places, only the presence of these willows provides evidence of the former creek. Recently planted trees include ash, red maple. silver maple & bur oak. Besides crack willow, there are Norway and Manitoba maple in the first part of the ditch. This residential area has more two-storey houses than the last one, punctuated by frequent large in-fill homes. Follow this string of parks to Lawrence Ave., go east and cross at the Ledbury traffic light.
Continue on through the Coldstream Reach.