Originally 2.2 km of Mud Creek from the Downsview Airfield to Highway 401, plus 0.4 km in a side stream. Only 1 km is traceable today.
In the Downsview Reach, only about 1 km of Mud Creek is traceable today, as the TTC yards, the Allen Road and Highway 401 have obliterate the rest. Burke Brook, shown on the map below, originates nearby. Residences, commerce and light industry are common to this part of Downsview. Area storm water feeds through the Wilson Heights Storm Trunk Sewer into the West Don River at the south end of Earl Bales Park. Similarly, sanitary sewage flows through the West Don Sanitary Trunk Sewer to eventually reach Ashbridges Bay Pollution Control Plant.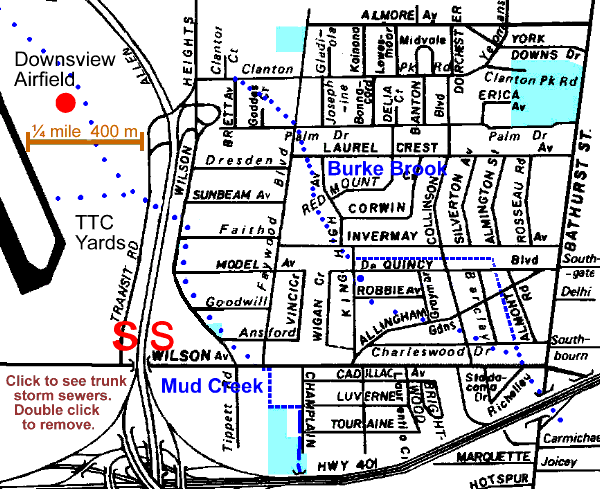 Because the TTC yards and the Allen Road obliterated the original source streams shown on early maps and the area west of Wilson Heights Blvd. is not accessable, the best place to begin the walk is Wilson Heights Blvd. and Sunbeam Ave., just north of where the stream once crossed Wilson Heights. From here, follow Wilson Heights to Wilson. Until recently, evidence of a ditch that held the stream earlier in the 20th century was visable from Model Ave. to Goodwill Ave. St. Joseph of Arimathea Orthodox Church is located at Goodwill. In this part of the former City of North York, tree cover is light and relatively young. Norway maples line Wilson Heights as do more recently planted honey locusts and silver maples. Apples, elms, Colorado spruce and willows are scattered throughout.
Mud Creek crossed under Wilson Avenue at Faywood Blvd. The ditch that held it is seen on the south side between Tippett Rd. and Champlain Blvd. Cattails, elm and Manitoba maple grow along it and it is often full of garbage, debris and weeds. Go south on Champlain to find the ditch that flows into a culvert under Highway 401 at the corner of Champlain Park. While this park is mostly open grass, a few ash, linden and Austrian pine have been planted.
To get to the next reach Lawrence Manor, return to Wilson, east to Bathurst and south to Hotspur.