1.5 km tributary of Burke Brook
Havergal Stream started close to Baycrest Hospital and flowed south east, over relatively level ground, to join Burke Brook just west of Chatsworth Park. Its route lay between Mud Creek and Burke Brook in what is now one of the good residential areas of Toronto. Storm water flows to the West Don River via the North Toronto Storm Trunk Sewer and Burke Brook. Sanitary sewage goes to the North Toronto Sewage Treatment Plant in the Don Valley.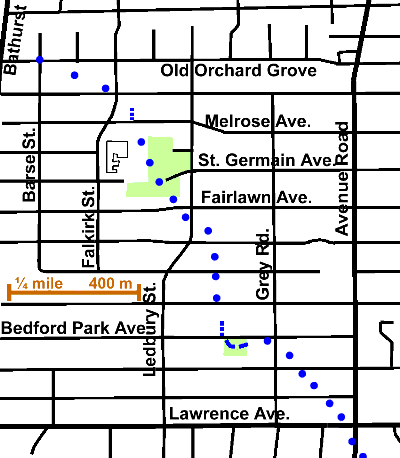 The course of this former stream is generally hazy north west of Avenue Road and Lawrence Avenue. If we start at Barse St. and Old Orchard Grove, we can follow the slight dips in the topography through this neighbourhood. Stronger evidence is the short stretch of ditch, running half a block north from Melrose Ave. a bit east of Falkirk St.
Enter Ledbury Park using St. Germain Ave. either east from Falkirk St. or west from Ledbury St. and note the water feature in this park, a wading pool in summer which becomes a skating rink in winter. The stream crossed Ledbury a bit south of Fairlawn Ave. and continued south.
We find a small park on Bedford Park Avenue where a slight valley marks the course of our stream. There is also a ditch running north of this street just west of the park.
This small wooded park and playground is shaded by Red Oak and Ash as well as other trees. From Bedford Park Avenue and Grey Road the stream flowed south east to cross Lawrence Ave. just west of Avenue Road.
South east of Lawrence Ave. and Avenue Road the stream come out of the ground in a small ravine on the grounds of Havergal College. This is fed by springs and local storm sewers. This ravine is entirely on the grounds of Havergal College, one of the oldest private girls schools in this city. It has a dense tree cover of Crack Willow, Norway and Manitoba Maple, Elm, Cottonwood, Ash, Apple, and the odd Beech and Black Walnut. There is a labelled trail where native plants have been planted in memory of a young woman who was a pupil at Havergal. Among the plants to be found here are: Ostrich Fern, Mertensia, Purple Raspberry, Solomon's Seal, Wood Poppy (see picture), Canada Anemone, May Apple, Meadow Rue, Maidenhair Fern, Foam Flower, Trillium, Jack-in-the-pulpit, Wild Ginger and Rue Anemone. Havergal Stream then enters a storm sewer, to join the North Toronto Storm Trunk Sewer and then Burke Brook (Chatsworth Reach) somewhere under the playgrounds of Glenview Public School.