1 km of Burke Brook from Lawrence Ave. to Yonge St.
Avenue Road & Lawrence Avenue to Yonge Street, all in the former Town of North Toronto. One of the City's Discovery Walks, "Northern Ravines and Gardens," follows this reach. The area is generally high class residential. Storm water flows to the the North Toronto Storm Trunk Sewer and Burke Brook. Sanitary sewage flows to the North Toronto Sewage Treatment plant in the Don Valley.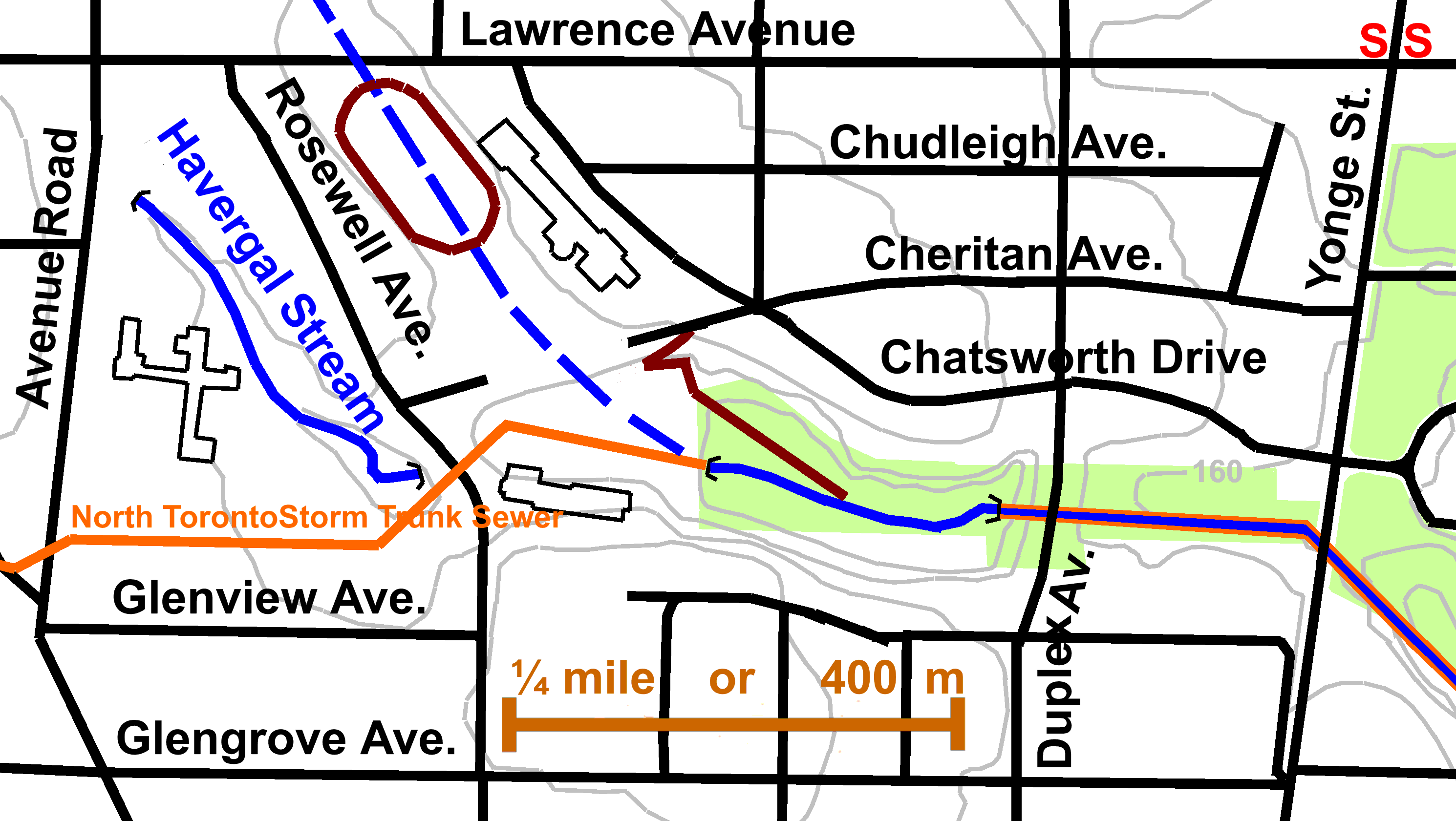 Start at Avenue Road & Lawrence Avenue and go east to Rosewell Ave. Follow Rosewell south and into the grounds of Glenview Public School. Alternatively, enter the Lawrence Park Collegiate Institute grounds and walk down the centre of the playing fields; or continue along Lawrence to Chatsworth Dr., walk south to Cheritan Ave. and west into the grounds of Lawrence Park Collegiate Institute. Burke Brook crossed Lawrence Ave. about halfway between Rosewell and Chatsworth Dr. It now flows in a storm sewer under the playing fields of Lawrence Park Collegiate Institute to join the North Toronto Storm Trunk Sewer underground and thus into Burke Brook. Tree cover along this part of Rosewell is light and includes Colorado Spruce, Norway and Manitoba Maples, White Birch, Magnolia and Elms. Trees observed on the grounds of the Collegiate and the Public School included: Linden, Black and Honey Locusts, Austrian and Scots Pines, Norway and Manitoba Maples, Ash, and Cottonwoods. On the west side of Rosewell, one can see the grounds of Havergal College and a small ravine containing the remaining above ground stretch of Havergal Stream.
There is a path from the Glenview Public School grounds east into the Chatsworth Ravine. Look for Discovery Walk signs. We first encounter an area naturalized by the Task Force to Bring Back the Don and its partners. Larger trees, especially on upper slopes, include Black Locust, White Pine, Norway and Manitoba Maples, and Cherries. Larger Willows are seen on lower wetter ground. Smaller, recently planted trees, include: Tamarack, Walnut, Elm, Hemlock, White Spruce, White Pine, Ash, and Sugar Maple, plus volunteer Black Locust, Manitoba Maple, and many vines.
Continuing down the path we enter a short stretch of wooded ravine with Burke Brook running at the surface, shaded by tall trees including: Crack Willow, Manitoba, Norway and Sugar Maples, Elm (some killed by Dutch Elm Disease), Black Cherry, Ash, Walnut, White Pine, Basswood and Cottonwood. At the end of this bit of ravine, we climb a slope to Duplex Ave. There are two paths. Most of the trees on this slope have been planted: Sumac, Silver, Manitoba and Sugar Maples, Beech White Birch, Ash, Austrian Pine and Walnut. Hackberry Austrian Pine and Crab Apples have been planted along the street.
Cross Duplex and descend into another stretch of ravine, leading to Yonge Street. This part is grassed and has no stream. Among the trees planted in this park are: Ginkgo, Norway, Silver, Sugar and Red Maples, Honey Locust, Siberian Elm, Ash, Plain Trees, Linden and an European Green Beech.
Cross Yonge Street at Chatsworth (St Edmonds Dr.) (lights) into Alexander Muir Memorial Gardens and the Sherwood Park Reach.