2.6 km of Burke Brook from Highway 401 to Lawrence Avenue
Avenue Road Reach runs from Highway 401 at Bathurst to Lawrence Avenue just east of Avenue Road. It was mostly in the former City of North York. Except for the commercial strip along Avenue Road, this area is residential. Most of the terrain is relatively level, but the beginning of the ravine system can be seen from Fairlawn Avenue south. Sanitary sewerage flows to the North Toronto Sewage Treatment Plant and storm water flows to the North Toronto Storm Trunk Sewer and Burke Brook.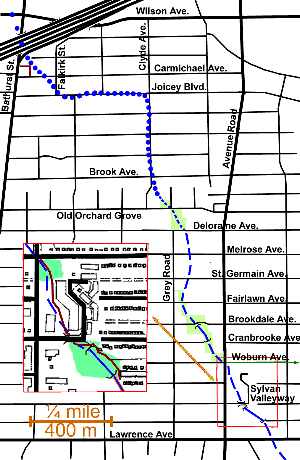 To trace this reach, start at Bathurst at Highway 401, walk south past Terrace Garden Retirement Residence (3705 Bathurst Street), take the lane east and a pathway south to Carmicael Ave. Note the low area behind the residence. Until we reach Old Orchard Grove, the topography is relatively flat and the course of the former stream can best be inferred by slight depressions along the streets. Take Carmicael Ave. to Falkirk Street, Falkirk to Joicey Blvd. to Clyde Ave. and Clyde south to Old Orchard Grove; the stream followed this route closely until Brook Avenue where it swung east through the block.
The tree cover in this area is light and not very high. It is dominated by Norway Maples (9 m high) and Crab Apples (5 m) along the street and Siberian Elm off street. Other trees noted: Silver Maple, Honey Locust, Catalpa, Magnolia, Colorado and Norway Spruce, Linden, Mountain Ash, Manitoba Maple White Birch, Mulberry, one Balsam Fir, one Tamarack and one Red Oak (6 m).
Take Old Orchard Grove to Grey Road and two small parks, Grey Park and Old Orchard Park, where the stream's course is marked by large Crack Willows along stretches of ditch up to 1.5 m deep. Besides the Willows and some Norway Maple, there are a few recently planted Ash and Silver Maple in Old Orchard Park. A fountain and small pond beside a nearby house make an interesting water feature. Walk through Old Orchard Park and south along Grey Road to a point halfway between St. Germain and Fairlawn Avenues, where a Mountain Ash and some small Cedars mark the entrance to a small park on the east side. Note that the valley of Burke Brook can be clearly seen to the east along Deloraine, Melrose and St. Germain Avenues. The tree cover in this area is a bit denser and a bit higher than in the more northerly part of our walk, but not markedly so.
Go east into the park where we meet the beginning of the Burke Brook ravine system, here bordered by Large Crack Willows and smaller Elms, Manitoba and Norway Maples. Further down the valley a mixture of these species continues, but with more variation in size classes and the occasional Red Oak and Linden. Dogwood and other shrubs are also present. A path south from Fairlawn follows the west side of the valley past Brookdale and Cranbrooke Avenues which, while broken by this small ravine, continue through it as paths. Between Brookdale and Cranbrooke Burke Brook comes out in the open in a gabion sided channel. South of Cranbrooke we enter a playground and then a more formal park before Woburn Ave. Trees in these small parks include: Ash, Norway and Silver Maples, Honey Locust and English Oak.
Cross Avenue Road at Woburn Ave. From Woburn to Sylvan Valleyway, the course of Burke Brook passes through a condominium development which does not allow public access. The park at the north end has a full tree cover of Ash, Norway Maple and Austrian Pine. There are Weeping Willow Russian Olive and a number of ornamentals in the central area where the pond and waterfall are located. Upon passing under the bridge at Sylvan Valleyway we find Burke Brook in a gabion sided channel running through a small ravine covered by a jungle of small trees mostly Manitoba Maple and exotic Elms with the odd larger Crack willow. There is a trail along it on the east side. After a block this channel disappears into a storm sewer running first under the parking lot behind 250 Lawrence Avenue West and then Lawrence Ave. and the playing fields of Lawrence Park Collegiate Institute and Glenview Public School, to come out again in Chatsworth Ravine (see Chatsworth Reach). The last 120 m was in the Former Town of North Toronto.