James Hervey Price bought John Montgomerys farm, then in York Township, in 1843 and moved into the Montgomerys' farmhouse. By 1860, Price had subdivided the property into large parcels and sold them off. One of the purchasers was James Lesslie. Lesslie who bought twenty-seven acres in 1855. He moved into the former Montgomery farmhouse, north of Eglinton and on the east side of modern Avenue Road and named his estate the Willows. Lesslie was born in Dundee, Scotland, the son of a prosperous stationer and bookseller. In the 1820s, James Lesslie and his friend William Lyon Mackenzie emigrated first to Kingston and then to York and established a printing business. Lesslie, like his radical friend, was vocal about political reform, and owned a newspaper which was critical of the Family Compact. His businesses prospered, so he was able to found a bank and an insurance company. He hired John Gartshore to manage the country estate and farm operations. The History of Toronto and County of York, Ontario, described Lesslie's retirement to his rural retreat in Eglinton: "in his eighty-second year, he devotes his well-earned leisure to books and the management of a small farm."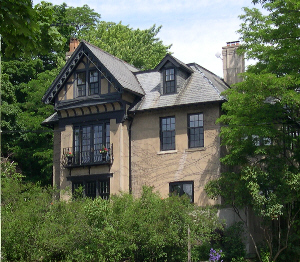 Willowbank
Lesslie passed away in 1885, leaving half of the Willows to his widow and half to Gartshore. Jacqueline received all of the household effects, and John was left the livestock and any earnings from the farm, to cover operating expenses. Jacqueline died a few years later, and John Gartshore inherited the rest of the Lesslie estate. Gartshore built himself a larger home south of the Willows which he named Willowbank. He was a strong church supporter, acting as Superintendent of Sunday School at Eglinton Presbyterian Church and sitting on the board of directors of the YMCA. He used the Willows to house visiting or retired missionaries. By the 1900s, the former Lesslie property was surrounded by subdivisions. Gartshore sold the property to Lieutenant Colonel George Mitchell in 1910, and the Willows was demolished.
The Eglinton Branch of the Toronto Hunt Club then purchased the part of the Lesslie estate that included Willowbank, which became the first clubhouse. The hunt club also built large brick and stone stables that could house 140 horses. An indoor polo arena was added later. The Eglinton Hunt became independent in 1922 and later moved on to other premises outside the city. The former Gartshore estate was divided into 143 building lots. The hunt club buildings were sold to the R.C.A.F. 1939, and a Canadian Forces Training School operated there until 1994. The Metropolitan Separate School Board now owns the property and has recently built a new Catholic High School.
The Gartshore house still stands at the corner of present-day Oriole Parkway and Burnaby Boulevard and is, once again, a private residence. Willowbank Boulevard runs behind it.
For more about The Willows and Willowbank. and their owners, see "The Estates of Old Toronto" by Liz Lundell.