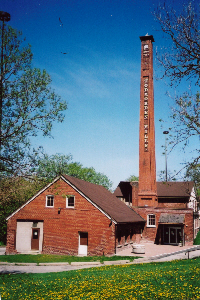 A plaque erected at this historic Industrial site by the Archaeological and Historic Sites Board of the Ministry of Colleges and University tells that:
"In 1794-5 Isaiah and Aaron Skinner built a sawmill and gristmill near this site. A third share in the mill property was held, 1799-1805, by their brother-in-law, Pashall Terry, a member of the first Legislative Assembly of Upper Canada, who had moved to this area by 1798. Terry lived nearby until his death in 1808. Later the mills were jointly owned by Colin Skinner and John Eastwood. By 1823 Thomas Helliwell had built a brewery and a distillery in the immediate vicinity and within four years Eastwood and Skinner had constructed the second paper mill in Upper Canada. A village called Todmorden after the English home of the Helliwells grew up to the north-east of the mills."
Originally this mill was known as the York Paper Mill. The Taylor Brothers purchased it in 1855. They had three paper mills. This they called the Lower Mill. The Middle Mill in the end was known as The Domtar Mill.. The upper mill was on the West Don a bit above the Forks. The original buildings seen belowl burned in Nov 1900 and were replaced by the existing buildings.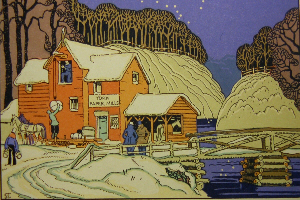 York Paper Mill by S. F. Turner. Courtesy Toronto Public Library.
The city website tells us that: "In 1796 Lieutenant Governor John Graves Simcoe directed that one pair of mill stones and a set of grist mill irons be provided to Isaiah and Aaron Skinner to construct the first grist mill on the Don River at the site now known as Todmorden Mills. Since that time, a major industrial complex developed within the Don Valley to serve the residents of the early Town of York and later, the City of Toronto. By 1797, a sawmill had been constructed to ensure a supply of lumber for the growing Town of York."
The City encourages Citizens and visitors are encouraged to "drop in at Todmorden Mills Museum and learn about the early days of industry in Toronto, its role in Toronto's development and the cultural impact of the city's growth on the natural environment. The mills were vital to Toronto's development more than a century ago by providing lumber, flour, paper, whisky and beer to residents. Visit this scenic Don River Valley location to explore millers' homes, the Brewery Gallery, the Paper Mill Gallery and Theatre and the relocated Don Train station. Also on this site is a wildflower preserve."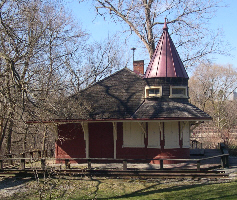 The Don Station, seen here at Todmorden, was originally built, I was informed, for the Beltline Railroad along the Don River at Queen Street. When that enterprise went broke, it was taken over by the Canadian Northern Railroad, which used it for many years.
For more about Todmorden Mills, see www.toronto.ca/todmorden/