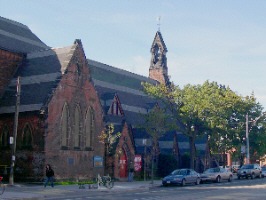 St. Steven's, summer morning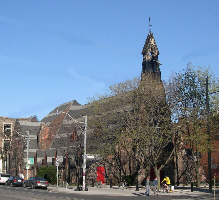 spring evening
St. Stephen's-in-the-Field Anglican Church, a superb example of mid nineteenth century Gothic architecture, is threatened. Local parish is loosing money and the Anglican diocese, which owns the building is not interested in entering into a heritage easement agreement with the city. St. Stephen's was built in 1858. Its stained glass windows are among the finest in the city. However, it is not only a wonderful building; it is a force for good, looking after its parishioners and many others in the community. Like many St. Stephen's is one of the many downtown churches that have embraced the mission of caring for the hungry, the naked and the poor. It has services in English, Spanish and French for Caribbean, Latino and African congregations.
A while back, The Anglican diocese offered to loan the parish funds to cover the wages of a priest. Over the years a debt of $400,000 built up. Recently the diocese asked for repayment and the congregation worked out a 15-year repayment schedule. For a time the diocese went along with this plan, but recently it issued an order to vacate. The diocese wants the building back. A group, The Friends of St. Stephen's, has formed to endeavour to preserve this church and its congregation. They deserve support.
Much of this information was gleaned from an article by Joe Fiorito, that appeared in the Friday, Sept 16, 2005, issue of the Toronto Star.
Those wishing to help, might contact the friends of St. Stephens at www.saintstephens.ca/
St. Stephen's was built in 1857 by Robert Brittain Denison, member of a prominent Toronto family, on his property and at his own expense, the first Anglican Church to be built west of Spadina Avenue in the City of Toronto, to provide " a place of worship in a locality where distance from any place devoted to devotional purposes was inconvenient."
Denison engaged the renowned architect Thomas Fuller and master builder John Worthington to design and build the original structure. It was popularly described as "in the fields" as College Street did not extend west of the University of Toronto when it was built, A footpath led from University Avenue through fields to the church, then actually in the middle of the fields.