The Royal Ontario Museum, often called the ROM, is a world-renowned institution and the fifth largest museum in North America. It was established by an Act of the Ontario Legislature in April 1912. The original building along Philosophers' Walk with the main entrance on Bloor Street, was opened to the public on March 19, 1914. It is now the west wing of the ROM.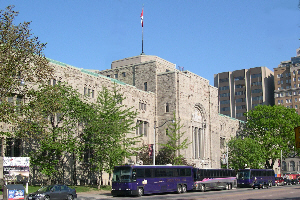 Royal Ontario Museum. Queens Park Wing
In the early 1930s, the Queen's Park wing was built with a connecting wing to the original building. The floor plan became H shaped and the entrance was moved to Queen's Park. The new building was designed by Alfred H. Chapman and James Oxley, The new main facade of the museum broke from the Italianate style of the original structure, to a neo-Byzantine style, with stone, triple windows contained within recessed arches, and different-coloured stone arranged in a variety of patterns. The ornate ceiling of the entrance rotunda is covered in gold back-painted glass mosaic tiles, with coloured mosaic geometric patterns as well as images of real and mythical animals.
The second major addition filled in the open ends of the "H" with terrace galleries on the north side of the building, and a curatorial centre on the south, which were started in 1978 and was completed in 1984.
The museum is currently undergoing a major renovation and redesign, dubbed the Michael Lee-Chin Crystal, by renowned architect and Bregman & Hamann Architects, and slated for completion in 2007, and was budgeted to cost $200 million. When this is completed, the entrance will once again be on Bloor Street.
The Royal Ontario Museum owes its existence to the efforts of many people. The founders, including Sir Byron Edmund Walker and Dr. Charles Trick Currelly, began with a vision for a provincial museum in Toronto. Over the years, the careful planning of numerous employees and volunteers has expanded that vision and today the ROM is a well-known international museum. Many people have dedicate their time and their own personal resources to help shape the growth and continued success of the Museum.
For more about the ROM go to www.rom.on.ca