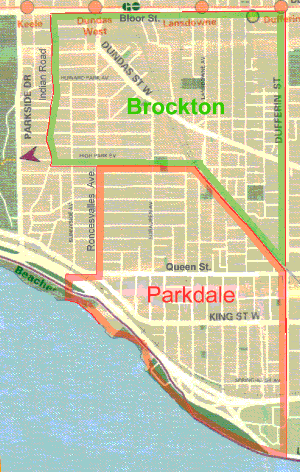 The early City of Toronto's western limits were at Dufferin Street. Among the numerous settlements, towns and villages that sprung up around the original city and then swallowed by that growing city during the nineteenth century were Parkdale and Brockton, villages that were established west of the original city and then annexed in a few short years.
Parkdale, which had begun as a residential suburb, was incorporated as a village in 1878, became a town in 1885 and was annexed to the city in 1888.
Brockton, which is said to be an older village than Parkdale, was incorporated in 1881 and was amalgamated with the City of Toronto in 1884, as part of the 50th anniversary observances of the incorporation of that city.
Parkdale, after almost 10 years as an independent corporation, voted in October 27, 1888, to join the city of Toronto. It had begun as a residential suburb. Moderately wealthy Torontonians of the late 1870's bought houses west of Dufferin Street then the city limits) to escape the big city where they worked. This was a popular notion in the late 1870's. A June 1879 editorial in the Toronto Telegram said: "Dominion Day will soon be here, and people are already beginning to make up their minds what they will do with themselves. So many excursions have been announced that if they are all well patronized there will be scarcely anybody left in the city on the holiday. In these blistering days it is a relief to workaday people to get away from the heat and dust of the city. " The population of "the big city" in 1879 was under 75,000. Parkdale possessed many attractions for those wishing to escape the city. Lake Ontario provided good drinking and swimming water and a pleasant climate.
In 1875, The Toronto House Building Association purchased 30 acres of land from the County of York, just west of Dufferin Street and built a number of elegant and sturdy houses which were sold to some of Toronto's wealthy families, at that time largely Anglo-Saxon. Thus most of Parkdale's leading citizens were also Anglo-Saxon. The community grew fast and on June 28, 1878, the village of Parkdale was created. A map of Parkdale drawn in 1889 shows the western limit as Roncesvalles, north to Fermanagh and the CPR tracks; south to Lake Ontario; and east to Dufferin.
Parkdale's incorporation took place amid much opposition. The Globe said a separate village west of Dufferin Street would cut Toronto citizens off from High Park. Great West Railway began, in 1878, running daily excursions to High Park, which had been donated to the city by John G. Howard five years earlier. One reason the residents gave for wanting an independent village, was the state of Toronto's drinking water which they deemed filthy and had poor taste. It was "so hard that washing with it was all but out of the question and so foul, that drinking it was like purgatory and death united in one operation." Less than one week after Parkdale was incorporated the Globe published an editorial telling why it objected to separate villages. The exurbanites who, "being in the city all the day availing themselves of all municipal conveniences," had built houses immediately beyond city limits to escape from paying their share of the cost incurred in constructing these municipal conveniences, such as roads, sidewalks, streets and railways.
Parkdale became a town in 1885 and in 1889 after some controversy, it was annexed to the City and became St. Alban's Ward. Its 10 years as an independent corporation left it with a character different from most parts of Toronto. For more about Parkdale and its early years see "Parkdale, a Centennial History" compiled and published by Parkdale Centennial Research in 1978.
Brockton is said to be an older village than Parkdale which grew from settlement on Loyalist land grants along Dundas Street, then a military road that probably followed an old Indian trail. The Village of Brockton was incorporated in 1881 and was amalgamated with the City of Toronto in 1884, as part of the 50th anniversary observances of the incorporation of the city.Colonel Givins and Colonel Denison, known for building Dundas Street through the area, held considerable property in this area.
While it it is general thought that Brockton was named after Sir Isaac Brock, hero of the War of 1812, I have been informed that Captain James Brock of the 49th Foot Regiment, Sir Isaac's first cousin and his sometime Private Secretary, has a greater claim as he was granted title to Park Lot 30, Con. 1 from the Bay, on 13 April 1812. This stretched from Queen to Bloor and is bisected today by Brock Avenue. This grant was followed on 2 Sept. 1812, by a second one of Lots 31 and 32 in Broken Front Concession at the extreme west end of the Garrison Reserve. James sold Lot 32 to James Fitzgibbon in 1821; his widow Lucy wasted no time after his death in selling Lot 31 to John Henry Dunn. But she held on to Park Lot 30 until 1850 when it was bought from her by a group of investors. It was surveyed by John Tully and subdivided by registered plan in 1860.
The heart of the village was the area between the Brockton Road and Jameson Avenue North. The Town Hall was erected on the southwest corner of Dundas Street and Brock Avenue in 1882. At amalgamation, the village council asked the Toronto City Council to use the hall as a fire hall, Police headquarters, free library and a public hall that could be used by the residents of western St. Mark's Ward.
With the exception of Dundas Street, most roads were either dirt, planked or covered with wood blocks. The wood blocks, about eight inches in diameter, were held together with tar and did not last long. Obtaining gravel for roads was a problem. When the block roads were replaced the blocks would be lifted by the people who lived on the streets and used for firewood. At that time wood was used until the very cold weather came when coal was used; so these blocks were welcome. There were few sidewalks in the 1880s.
There is quite a bit more information about Brockton in "John Mallon of Brockton and Toronto (1836-1913)" by Mary Frances Mallon; Pro Familia Publishing 1990. Information on the naming of Brockton was provided by Steven Otto.