Helliwell's Hill wetland, one of Bring Back The Don's small restortation projects, was completed in 1997 by TRCA, on behalf of the City. It is located south of the Bayview-Bloor ramp to DVP, and east of the Lower Don Trail in the bottomland area below the CP rail line.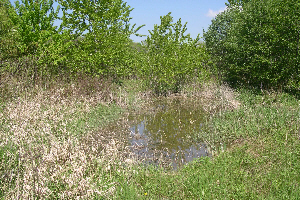 Pond in Helliwell's Hill Wetland, May 2007.
The amount of water held in this wetland varies. In wet years there is considerable ponding especially in the spring and in dry seasons it can be entirely dry. The pictures above, taken May 18. 2007, shows a small pond. This spring has been quite dry. The other below, taken in September 1996,shows the site before construction.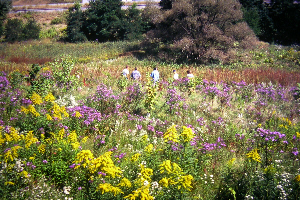 Helliwell's Hill Wetland site, September 1996
This site can to be very alive with wildlife, mostly birds, but it is also a favourite deer-sighting place
I know about a couple of deer sightings in the middle of the City of Toronto that are recorded on the net. Danny Marks' lead article "D'oh a Deer" the Spring BBTD newsletter, probalbly was at Helliwell's Hill. The description fits. Here is the link.. Another sighting was near Mount Pleasant Cemetery, during a Lost River Walk. Go to www.lostrivers.ca/Warch2005.htm and scroll down to August 7 (dates are listed in reverse order).