In the summer of 1992, Amanda McConnell and a few friends, disturbed by the neighbourhood's loss of trees, decided to tackle that issue. They had already been working on recycling, reusing, collecting toxic materials and taking them for disposal, local clean-ups, and various other local environemntal projects aimed at raising our neighbour's consciousness about the natural world that surrounds us.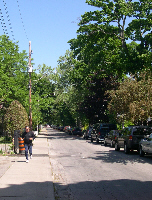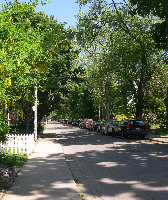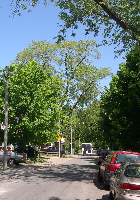 Scenes along Albany Street, May 29, 2007.
They started by hiring a forestry student to tell them what they had and what losses they might expect in the years ahead. They found that 75 per cent of trees in their neighbourhood were on private land, so they started a campaign to encourage tree and shrub planting in both front and backyards. The group also analyzed existing species diversity and persuaded the city's forestry department to shift its tree-planting program to large-canopy native species such as maple and oak, and away from non-native ornamental trees such as crab apple or other small-diameter blossoming fruit trees.
They also pushed planting native species of wildflowers and plants in front and back yards instead of manicured green lawns and white picket fences. Amanda McConnell has another goal: to see Taddle Creek run again through Albany back yards and to creating a natural habitat that will attract species such as the Blue Heron which once frequented the city. They have dug for Taddle Creek and worked to restore the toad population of the neighbourhood.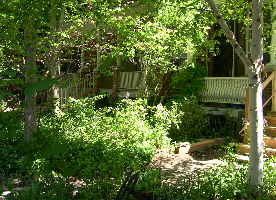 Naturalised Front Yard on Albany Street, May 2007.
Recently, the group commissioned an arborist to do a follow-up study. The results are highly encouraging. Their study found that "the overall health, diversity and number of trees has improved" with an estimated 15 per-cent increase in the number of trees. The arborist observed, that "contrasts markedly with the forest decline experienced in other Toronto neighbourhoods." What Grassroots Albany has accomplished is a textbook example of how local communities can band together to reverse the worrisome deforestation now threatening many older Toronto neighbourhoods.