This memorial to the 344 fallen fire fighters who have sacrificed their lives while protecting lives, property and the environment throughout Ontario, was dedicated Sunday, June 5, 2005. The base of the memorial is a red Maltese Cross, an international symbol for firefighting. The bronze sculpture shows fire fighter rescuing a child from danger. The black granite monolith represents a building. The name, rank, and date of death of Ontario's 344 fallen fire fighters are on the surrounding white granite walls.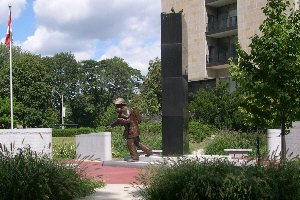 The earliest known was William Thornton, who died on November 24, 1848. In the morning of Wednesday, November 22, 1848, a fire started in a shoe Shop on King Street near Church Street. The fire fighters were confronted by the heavy fire spreading through four shops with apartments above on King and Church Streets. The structures weakened and Fire Fighter William Thornton became trapped as a wall collapsed. Toronto's fire fighting service had only recently organized into six volunteer companies. Fire fighters still pulled manual pumpers by hand, and horse-drawn tankers brought water from Lake Ontario.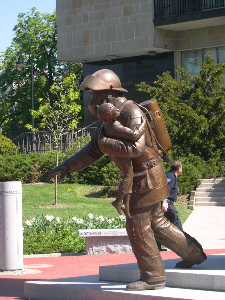 At plaque at the site tells us that among those attending were Lieutenant Governor James Bartleman, Premier Dalton McGuinty, the Honourable Monte Kwinter, Minister of Community Safety and Correctional Services, and Fire fighters and their families from across Ontario including the Families of some of the fallen.
For more about this and pictures of the dedication go to Fallen Fire Fighters