While Don Vale House, built in the late 1840s on the north side of Winchester Street at the Don River, was originally a residence, it quickly turned into a public house. It was at an excellent location to serve people coming into the city. A drawing in 1848 shows a small rough wooden 1-1/2 storey building with an open shed at the side. By 1855, David Priestly, who named it Don Vale House, is recorded as the proprietor in 1855. From 1860 to 1865 John Hogg was the owner. In 1865, George Fox, the manager from 1865 t0 1870, changed the name to the Fox Head Tavern. After he left the buildings stood empty and by 1876 they were torn down.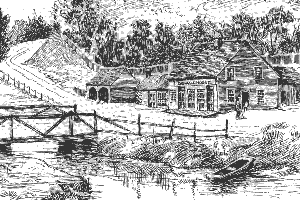 Picture Don Vale House at the Winchester Street Bridge
over the Don River. c 1865
Don Vale House was a sporting tavern where boxing contests, crude fighting, cockfights, and gambling could be enjoyed while drinking. It was a place where men went in the evening after their work, it being far enough removed from the centre of the city to give the patrons a walk. Before the completion of Prince Edward Viaduct at Bloor Street in October 1918, Winchester Street was an important route into Toronto. Many travellers and farmers on their way to market stopped at the Don Vale House before heading up the steep Winchester Street hill.
For more information about Don Vale House see "A Glimpse of Toronto's History," MPLS # 083.