Peter Russell, The Administrator of Upper Canada, ordered the construction of a blockhouse near the Parliament Buildings, c1799. The Mississauga were restless because they were being forced off their lands without treaties in place to compensate them and other events such as the murder of a Mississauga Chief by a Queen's Rangers soldier. The residents of the tiny Town of York were nervous, fearing an invasion.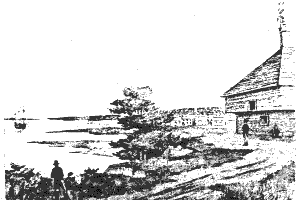 Don Blockhouse over looking Toronto Harbour
This was a typical blockhouse of this period, two storeys high, 98' square, constructed of logs, with the upper storey offset as seen in the picture. On the roof, a signal light was mounted to guide ships on the lake to York's harbour. A painting of 1803 shows a flag on the roof. It was destroyed by the Americans in 1813 during the invasion of York as it was the main defence installation for the first Parliament Buildings nearby. Its function was replaced by other installations and earthworks.
For a bit more about this structure see "A Glimpse of Toronto's History" MPLS#051.