Twenty one Dale Avenue was originally the site of John Hoskin's residence, "The Dale." The position of the house amidst the expansive grounds and gardens could not have been lovelier. G. Mercer Adam wrote in his book "Toronto Old and New:" "For beauty of situation, no less than for its fine sylvan setting and the rare attractions of its conservatories, 'The Dale' is well-nigh unsurpassed among Toronto homes." It was an ornate and rumbling dwelling with steep roofs, gables, dormers, turrets pointed windows and fanciful front porch spindlework, typical of the Gothic Revival design. Mr. Hoskin purchased the property in 1862, but the house was not constructed until after his marriage in 1866.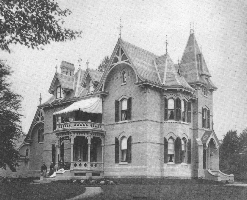 John Hoskin was born in 1836, in Devonshire England, and educated in Canada. He was called to the Bar in 1863 and created a Queen's Counsel 10 years later. Among his titles was that of Official Guardian of Infants. In 1889 he was awarded an honorary Doctor Laws degree. By 1890 he held positions as President of the County of York Law Association, President of the National Investment Company, Vice-President of the Toronto General Trusts Company, Director of the Canadian Bank of Commerce, and Trustee of the University of Toronto.
The John Hoskin family were residents of 21 Dale Avenue until 1909. Later it was inhabited by Albert E. Dyment until 1939. The house was probably torn down around 1940.
In the mid 19th century, all of south-east Rosedale was in the hands of four landowners: Maunsell Jackson, who lived at Drumsnab; Edward Nanton, who resided in a former milkman's cottage near today's Nanton Avenue; Yorkville developer Walter McKenzie, whose house was near McKenzie Avenue; and Judge John Hoskin. All four reached home by a ravine road that began at Parliament Street, where they jointly maintained a gatekeeper's lodge. A remnant of this road can be seen just north of Castle Frank Subway Station and is a good trail to take down into the valley. More can be found about The Dale in "Rosedale" by Bess Crawford.