The plaque seen here comemorates Charles Sauriol (May 3, 1904 to December 16, 1995) and his work to preserve the Don Valley. Full wording below.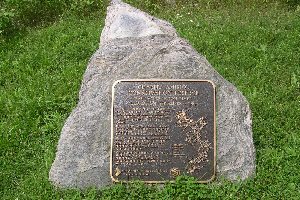 Charles Sauriol was born in Toronto, an eighth generation Canadian. An ancestor of his had emigrated to New France from Brittany in 1705. As the plaque states, he was an active Boy Scout and camped in the Don Valley. whe it was mostly farmland and woods that remained mostly in a natural state. He fell in love with the outdoors, which inspired his drive to protect the Don Valley for future generations.
He helped found the Don Valley Conservation Association, in 1949. In 1954, he joined the Don Valley Conservation Authority which was amalgamated with other Consevation Authorities in the region after Hurricane Hazel to become the Metropolitan Toronto and Region Conservation Authority in 1957. Because of the damage caused by Hurricane Hazel, MTRCA acquired most of the valley and ravine lands in the Toronto area. Sauriol, as a member of MTRCA's executive committee was a driving force in this effort.
In 1927, Sauriol he bought 40 hectares of valley land at the Forks of the Don, which he used as a summer residence. Part of the land was expropriated for the Don Valley Parkway and in 1968 the MTRCA acquired the balance as part of a program to procure most of the valley lands previousely in private hands.
His life work as a conservationist was recognized by many. Known as Mr. Conservation he was made a Member of the Order of Canada on April 12, 1989. He received 40 other awards and citations including the Governor General's Conservation Award in 1980 and the Parks Canada Heritage Award in 1991.
His writings include:
"Remembering the Don: A Rare Record of Earlier Times Within the Don River Valley." Consolidated Amethyst Communications. 1981.
"A Beeman's Journey, Toronto": Natural Heritage/Natural History Publishers. 1984.
"Tales of the Don." Natural Heritage/Natural History. 1984.
"Green Footsteps: Recollections of a Grassroots Conservationist." Hemlock Press. 1991.
"Trails of the Don." Hemlock Press. 1992.
"Pioneers of the Don." Self-published. 1995.
The plaque reads "Charles Sauriol Conservation Reserve East Valley - Don River Dedication September 6, 1989 "In 1831, on this site at the Forks of the Don, then known as the Boatbildery, Capt. Philippe De Grassi, a veteran of the Napolionic Wars, drew a grant of 200 acres on which he settled with his family. In the early 1920's, Charles Sauriol of the 45th East Toronto Troop of Boy Scouts camped in this valley, and so began his career as a conservationist. In 1927, Charles Sauriol acquired part of the De Grassi tract. From that date, he dedicated himself to the preservation of the on Valley's natural resources. His lifelong determination and dream of the East Valley of the Don protected as a publicly owned conservation reserve became a reality on September 6, 1989. The Metropolitan Toronto and Region Conservation Authority"