This impressive bridge across the Don River Valley, together with the one carrying Bloor Street over the Rosedale Ravine was started January 7, 1915 and finished in 1919. It is 26 metres wide and 494 meters long and carries five lanes of traffic on the top deck plus two way subway train traffic on the lower deck. It is nearly 40 metres above the Don. The consulting architect was Edmund Burke, and the designing and construction engineer was Thomas Taylor.

Prince Edward Viaduct from Chester Springs Marsh (under construction).
The foresight of the builders was demonstrated by the inclusion of a lower deck to accommodate a subway, even though Toronto would not have an east-west subway until 1966. It was named after Edward Prince of Wales (later King Edward VIII and The Duke of Windsor).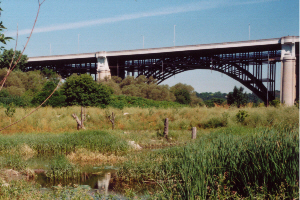 As mentioned, the bridge that carries Bloor Street over the Rosedale Ravine was built as part of the same project. When the bridging of the Don Valley here was first proposed it was very controversial. The estimated construction costs were considered excessive by Toronto's citizens ($2,500,000 in 1913) and as the Danforth was still sparsely populated, it was dubbed the "bridge to nowhere." The opposition was largely led by Rosedale residents who objected to runnning Bloor Street through their community. The electorate turned down construction the bridge twice, but was finally approved it on January 1, 1913. When presented the second time the present bend in Bloor Street was included which quieted some of the opposition.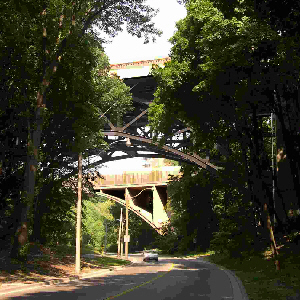 Covered Bloor Subway Bridge seen through Bloor Street Bridge Rosedale Valley
It is interesting to note that when it was proposed that the east-west subway along Bloor Street cross the Rosedale Valley in a separate bridge, Rosedale residents, fearing considerable noise pollution, again began lobbying. The result was that the subway was put in the covered bridge we see now.
Before the Prince Edward Viaduct was built the most northerly bridge across the Don River in the city was a small one at Winchester Street. The Viaduct's construction and the later construction of the east-west subway, unified the city and stimulated the economy.
Due to its size and the ease with which people could jump over its short railings, it became a magnet for suicide. With over 400 suicides, the Viaduct ranked as the second most fatal standing structure in the world, after the Golden Gate Bridge in San Francisco. This led to the construction of a suicide barrier called the Luminous Veil. Since completion of this barrier, there have been no suicides here.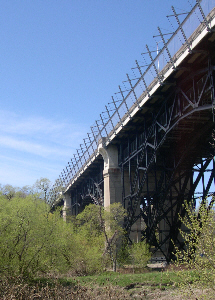 Luminous Veil
This is a good place to observe the Don Valley. To learn about how it became so wide see The Wide Valley of the Lower Don.