This is the oldest of the ten properties currently owned and operated by Commemorative
Services of Ontario. The name comes from the Greek necros: dead and polis: city. Located on the west slope of the Don Valley south of Castle Frank Book, it was established in 1850, as the city's second non-sectarian cemetery. The first non-sectarian cemetery, a six-acre property called Potter's Field was located on the north-west corner of Yonge and Bloor Streets. In those days, there were only a flew houses and John Scadding's farm
(across the Don River) around the Necropolis. The Toronto General Burying Grounds bought the Necropolis in 1855, and moved the remains of 984 of people interred in Potter's Field to the Necropolis, in a special section called "The Resting Place of Pioneers." Other remains were moved to Mount Pleasant Cemetery.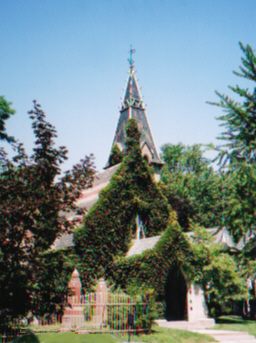 The chapel at the entrance to the cemetery was designed by Henry Langley, known for his Gothic Revival churches and Second Empire houses, banks and public buildings, and erected in 1872. It and the entranceway and office building are particularly fine examples of High Victorian Gothic architecture. Within the chapel are several beautiful examples of stained-glass windows. In 1933, the first crematorium in the Province of Ontario, the Toronto Crematorium, was established at the Necropolis. As one of the city's oldest cemeteries, the Necropolis has naturally become the final resting place of many of Toronto's pioneers including George Brown, founder The Globe, now the Globe & Mail.
During its development, the natural character of this property was preserved and enhanced with landscaping, garden features and sculptures. This abundance of trees and smaller plants of makes the cemetery a haven for birds and other small wildlife. They protect the soil from erosion and influence what will grow on a property. The protection of a mature arboretum enables the cultivation of plants which otherwise would not survive our climate.