In 1832, Charles Moore bought the lot south of Eglinton Avenue, which ran east from Yonge to Bayview, and called it Moore Place. The house faced Yonge Street and was surrounded by lawns and gardens. Moore, a native of Ireland and a staunch Loyalist, had lived a pioneer existence in the bush near Kingston with his wife and family before moving to York County in 1823. Until they could buy land of their own, they farmed on rented property.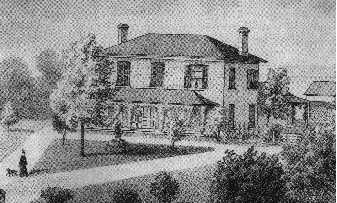 Moore Place was a busy working farm. The Moores prospered and were able to summer in Muskoka in later years. In 1860, Charles Moore sold the rear portion near Bayview to his son, Erwin, but held on to the 135 acres on Yonge. He died in 1867 and it passed his daughters. Mary and Catherine Moore, unable to manage the large farm, began selling off acreage. Developers layed out the short residential streets running north from Soudan.
In 1889, the two sisters moved to the city to be closer to St. Paul's Church in Yorkville, a parish that the Moore family had helped to found in 1842. Thomas Moore, a nephew, lived at the old homestead with his family for a number of years before its demolition. No trace remains today of Moore Place. (For more about Moore Place and its owners, see "The Estatesof Old Toronto" by Liz Lundell).