Now part of the Royal Conservatory of Music, McMaster Hall was the original home of McMaster University. This building was designed by the Toronto firm of Langley, Langley and Burke, specialists in church architecture, to house Toronto Baptist College. It is in the style popular in the 1880's, with rock- faced masonry, decorative stone and brick patterns, massive dormers and chimneys, and facades with projecting bays and recessed panels. Senator William McMaster financed the construction of the College, which opened in 1881. For more about Senator McMaster see the page on Rathnelly, his great house on the Iroquois Bluff. McMaster University was incorporated in 1887. Here in McMaster Hall, it offered courses in arts and theology. Degree programs began in 1890, with degrees first being conferred in 1894.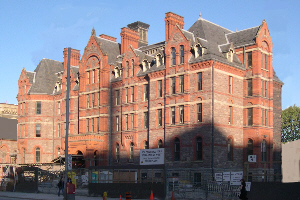 In 1930 McMaster University moved from Toronto to Hamilton. While originally, and for many years a Baptist institution, in 1957, the University became a non-denominational private institution. The historic Baptist connection was continued through the separate incorporation and affiliation of a theological school, McMaster Divinity College.
This building was acquired by the University of Toronto and has housed the Royal Conservatory of Music since 1963.
For more about McMaster University go here