The Town of Leaside was unique in Ontario as it was the only town which was planned in complete detail before a single building was erected and which grew to fulfil its plan pretty well as designed. Several towns were preplanned in Ontario. York, Guelph and Goderich are examples of this, but not in nearly the level of detail of Leaside. Many towns and villages were planned but only after initial settlement, while most just grew like Topsy. In 1825 one other town, Adolphustown, in Prince Edward County, came very close in detail of planning to that of Leaside, but never really reached the planned potential and is still just an unpretentious village.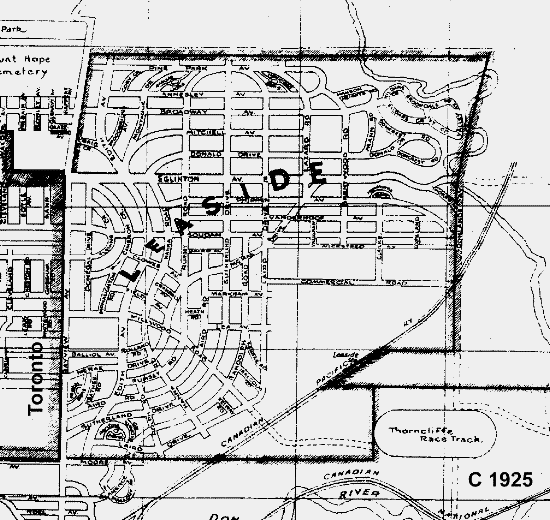 A true pioneer of early Toronto, John Lea Senior arrived from England via Philadelphia, USA in 1819. At that time, the total population of the Town of York was 1,174; there were 91 one-storey houses, 68 two-storey ones and 21 shops. He desired land with good soil and which was close to transportation and markets, so he chose York, because land was still quite cheap here in Upper Canada. He bought 200 acres in the third concession on high ground between present-day Bayview Avenue, and Leslie Street, half a mile south of Eglinton. His son William inherited 91 of these acres to which he added 130 acres just south of his fathers farm, Here he built his octagonal house which he called Leaside.
In 1881 the rail line now know as the CPR was built through the Lea farms and in the early 1900s the Canadian Northern Railway Company (now the CNR) Built a line through the Don Valley. Expecting large profits from land development, the latter rail company began to assemble the land that would become The Town of Leaside. In 1912, it announced its plan to establish a sizeable residential community and engaged a town planner to prepare a detailed street and lot plan. In April 23, 1913, the new community was incorporated, becoming the Town of Leaside. The project was innovative for its time - a pre-planned town, laid out fully before a building existed.
The company aimed to attract industry as well as residential growth; however, the expected residential development did not happen immediately. Several factors especially Leaside's isolated location prevented rapid residential growth; however, industrial development did start along the Canadian Pacific corridor, accelerated by the First World War munitions factories. In 1913 the Canada Wire and Cable Company became the first of many firms to locate in Leaside. During World War I, the Canadian Government set up several airfields to train pilots, mechanics and maintenance crews for the Royal Flying Corps, one of which was in Leaside. Growth was slow until the late 1930s. For the early years and up to 1929, the population was 500 or less. During WWII the establishment of defence industies such as Reseach Enterprises Ltd. resulted in significant growth and by 1946 had passed ten thousand.
After the war, Leaside became a important bedroom community for the city and by 1967, when it was merged with the Township of East York to become part of The Borough of East York, it was over 20,000. In 1997, The Borough was abolished and became part of the greatly enlarged City of Toronto.
For more about the industries and people of Leaside see "Leaside" Jane Pitfield editor.