John Scadding owned the land on the east side of the Don River across from the Simcoe property and managed the latter after John Graves Simcoe returned to the old country. John built his house a little south of Queen Street on a site now encircled by a DVP on-ramp. For a bit about the Simcoe lands see Castle Frank. For a story about the building of this home see "Over the Don" by Ron Fletcher.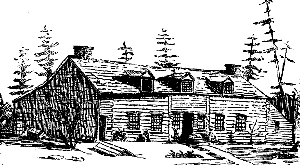 John Scadding home along the Don River
Some of the Scadding land was later purchaseby the City for Riverdale Parkand the Don Jail.
John Scadding's son, Henry, was a noted teacher and clergyman, who wrote numerous religious, literary, and historical works, including his best-known book, "Toronto of Old". See Henry Scadding House.