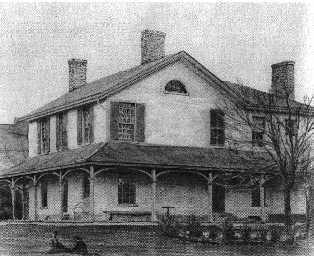 There were two house on the top of the hill at Glen Edyth Drive. Russell Hill was built in 1818 by Admiral Augustus Warren Baldwin and demolished in 1872 to make way for Glen Edyth the Nordheimer mansion.
In 1817, Baldwin joined his family at York. His brother, William, already owned Spadina by that time and spoke highly of the beautiful lot to the east. Augustus bought the two-hundred-acre "sugar loaf lot" from Elizabeth Russell and began to build a house in 1818. He named the property Russell Hill for his birthplace near Cork, Ireland, and in honour of the Russells. After he retired from the Navy in 1836, Augustus was appointed to Upper Canada's Executive Council. He held that position until the Union of the Canadas in 1841. He died at Russell Hill in 1866. Today, Admiral and Russell Hill Roads remain as reminders of his Russell Hill estate.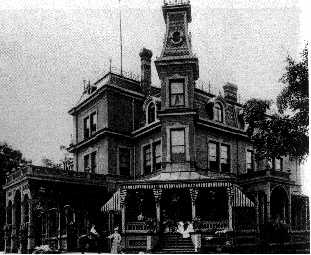 Glen Edyth
Glen Edyth, the second house on this site, was built in 1872 by the Nordheimers and demolished 1929. It was designed by a Viennese architect and had thirty-five-rooms, turrets, a widow's walk, a porte-cochere, and towers. The grounds were reminiscent of a grand English country estate. Stables, two coach houses, summerhouses, a cowshed, greenhouses, and kitchen gardens were situated on the property. A celebrated landscape architect was brought in from Cleveland to design the twenty-three acres of gardens. He dammed Castle Frank stream to create a ponds and a waterfall. Memories of this garden.
Samuel Nordheimer and his brother Abraham were in the music business. In later years, they manufactured pianos and supported many musical societies and events. Samuel was also a founder and director of several financial institutions. The Nordheimers both died in 1912, survived by their son Roy. who lived at Glen Edyth until 1924. His executors offered Glen Edyth to the city as a park, but the price was too high, so the property was subdivide. Glen Edyth Drive marks the old carriage entrance.

Glen Edyth and Russell Hill
For more about Glen Edyth and Russell Hill and the people that built and lived in them, see "The Estatesof Old Toronto" by Liz Lundell.