The bridge seen here is actually a replica of the original bridge built in 1912 for Henry Pellatt, builder of Casa Loma. He had the original bridge built to open up the area north of the ravine for subdivision and development. He was not successful in this and was only able to dispose of lots south of the ravine. The present bridge was built in 1989 using the original drawings and is a fine example of an early reinforced concrete bridge. Note the details such as the tapering piers capped by a cornice, reminiscent of earlier stone construction. While the original was intended for vehicular traffic, this is strictly a foot bridge. Its construction was one of the final nails in the coffin of the "Spadina Expressway." For those wishing to learn more about this interesting bridge, the original drawings and Pellatt's development proposal are in the archives of the former City of York. More details on background are available in the "Reasons for Designation" prepared by the York LACAC.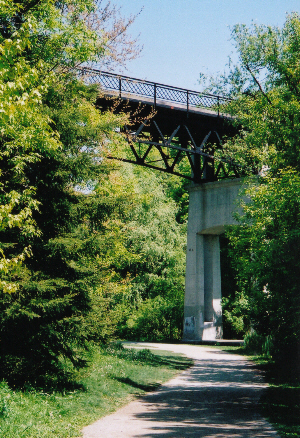 Glen Cedar Bridge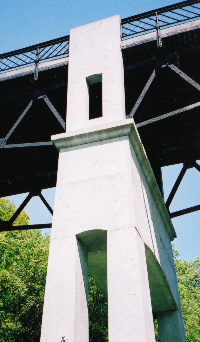 detail: note tapered pier and cornice
The story of how the Glen Cedar bridge reconstruction began: "Katie Rabinowicz, resident of Heathdale Road, was in Grade 3 at Cedarvale P.S. In class, her teacher mentioned that the bridge was going to be taken down. Katie came home and told her parents, who contacted the city for confirmation. Until that time, the city had not informed any of the constituents of its plans to destroy (and not replace) the Glen Cedar bridge. Katie and her father wrote a letter which they distributed around the neighbourhood. In a short time, everyone involved was apprised of the plan and the community became active. Meetings were held and our then mayor, Fergie Brown, tried to defend the decision. At one particularly heated meeting, held at Humewood Public School, a community resident told Fergie he was "either stupid or a liar." Fergie packed up his briefcase and stomped out of the room. The residents commissioned their own engineering study and alerted the media. After months of public hollering, we won. If Katie had not started the ball rolling, there would not be a bridge over the ravine and the community would be divided."
A note from Alan Seymour, who was the project architect responsible for the restoration carried out in 1989: "The bridge was design by C.H. and P.H. Mitchell, Engineers, and employed the latest ideas on structural design and the use of materials. The compressive and tensile strength of steel was superior to wrought iron and the cantilevered beams allowed for weather and temperature charges. The materials permitted a much lighter structure which complements the ravine site admirably. The bridge supports a wooden deck 385 feet long."
There is a small pond beside the bridge that is home to toad tadpoles. See Frog Songs. The Task Force to Bring Back The Don has planted some trees and shrubs around this pond to improve the habitat.