The Dominion Brewery is a flamboyant Victorian industrial structure built along Queen Street by Robert Davies in 1878. Its massive wings speak of industry; its office block of entrepreneurial bombast, even Victorian fantasy. This was an active brewery until 1936. It has been said that Davies owned one hundred and forty four taverns in Toronto.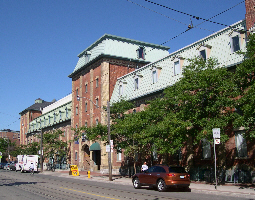 Renovations began in 1987 and it is now an office building with some upscale retail. It is a stark contrast with the Victorian working class housing that would in time have been part of old Cabbagetown. A good deal of the business strip along Queen Street is housed in Victorian structures.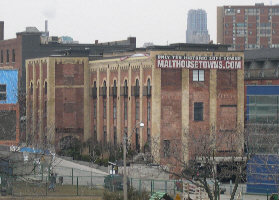 The Don Brewery was built along the Don River by Thomas Davies c 1850. It is now being converted to lofts. His son Robert established the Dominion Brewery and there were other breweries in the area. Brewing was an important industry in early Toronto. For a story about the Davies family and their brewery see "Over the Don" by Ron Fletcher.