1.7 km tributary of Garrison Creek
Springmount Stream probably started as a small rivulet near Earlscourt Ave. and Morrison Ave. and flowed south-east to cross St. Clair at Lauder and join Garrison Creek just north of Davenport Rd. It lies mostly in the former City of Toronto, except for a tiny stretch north-west St. Clair and Dufferin, where it crossed a corner of the former City of York. The area is residential except for commercial strips along St. Clair Ave. and Dufferin Street. Sanitary Sewage flows to the Ashbridges Bay Sewage Treatment Plant. Surface water flows via storm trunks that take it to Lake Ontario near High Park. Tree cover is generally oderate with Silver, Norway and Manitoba Maples, Elms, Linden, and other trees.
Click here to see sewers. Double click to remove.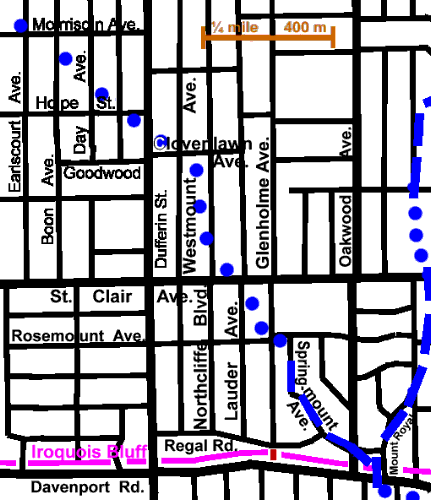 One can trace Springmount Stream from near Earlscourt Ave. and Morrison Ave. as it flowed south-east to cross St. Clair at Lauder. by slight dips in the roads it crossed. A slight valley or depression may be noted, crossing Dufferin near Hope St. In the St. Clair Parkette, a shallow depression crosses the playground north of the school; this parkette is a potential location for a creek recognition marker. At Lauder there are plaques marking the crossing point, that were installed when St. Clair was repaved in the summer of 1998. A picture taken in 1911, shows St. Clair and street car tracks taking a causeway over the stream in a valley about 2.4 m deep.
Follow Glenholme south to Rosemount and east to Springmount Ave. and down to Regal Rd. The Springmount Valley, now 6 to 8 m deep, was probably deeper before housing development (c. 1910). Take a side trip to the top of the bluff at Glenholme Ave. and Regal Rd. On a clear day, St. Catharines can be seen on the horizon, 55 km distant. Davenport Rd. is 12 m below. As the public's interest in its heritage increases, pressure both public & private will grow to preserve & enhance remaining traces of this the valley. Identification of creek alignment via plaques, use of distinct street signage, plantings and other action. is planned.
Follow Regal Rd. to Mount Royal. Springmount Stream joined Garrison Creek just above Davenport Rd. where both entered glacial Lake Iroquois 12,000 yrears ago.
Return to Humewood Reach or continue on through the Christie Reach.